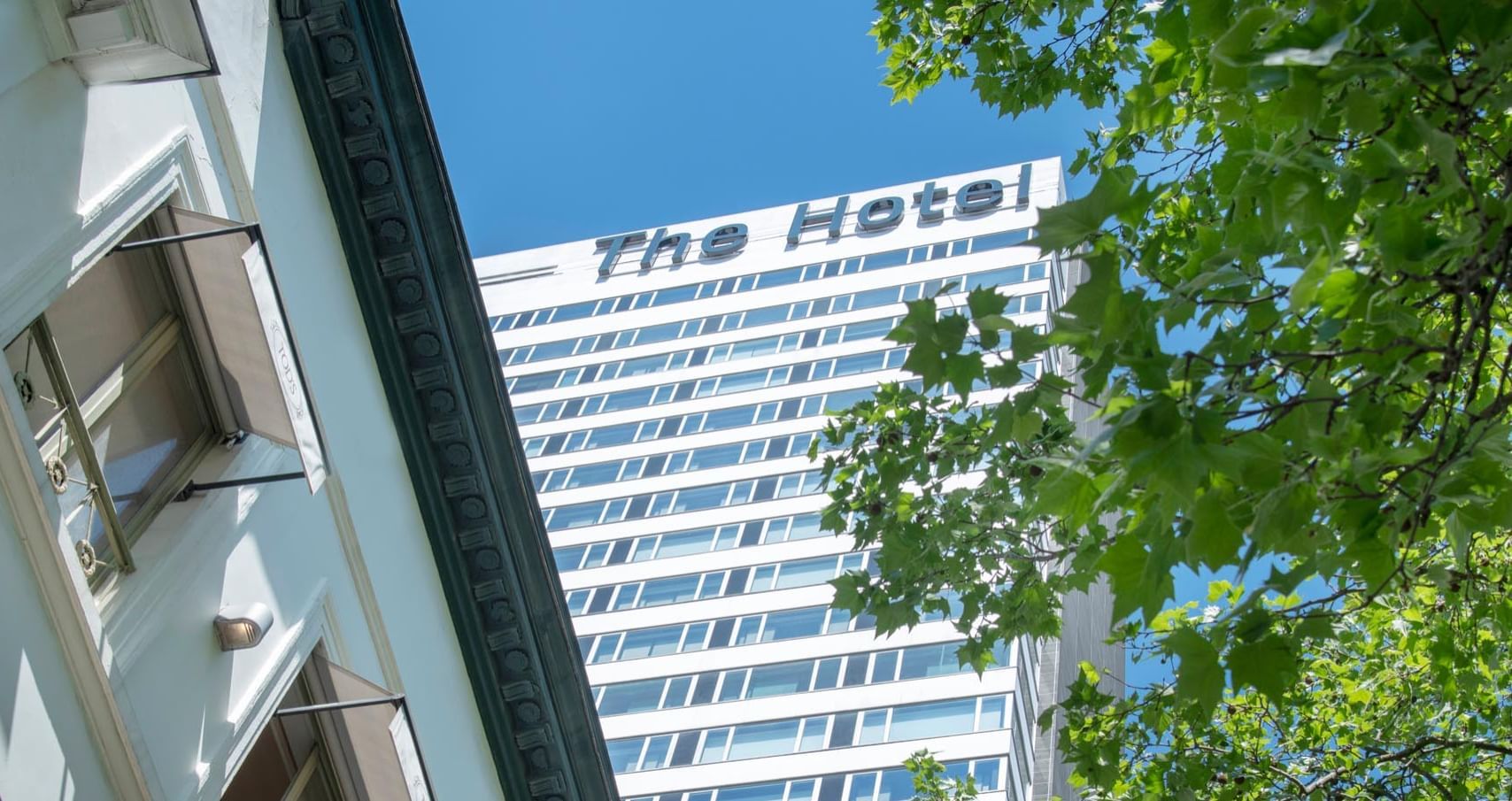 THE HOTEL. BRUSSELS
HEALTH & SAFETY
HEALTH & SAFETY: INFORMATION ABOUT IMPACT AND SAFETY AT THE HOTEL
UPDATE: 7 MARCH 2022
On July 14th 2020, The Hotel Brussels has been awarded with the Safeguard Label by Bureau Veritas after independent verification. We follow strict hygiene standards and apply a certified sanitary protocol in order to guarantee the safety and security of our guest and staff members.
Wearing a mask in the public areas of The Hotel is recommended but not mandatory anymore.
The health, safety and security of our guests and team members are of utmost importance for The Hotel. We follow all rules and regulations issued by global and local government closely and abide by the World Health Organization (WHO) recommendations and health guidelines in order to deliver and maintain a clean and safe environment for guest and team members alike.
A Health and Safety protocol, including in-depth cleaning and disinfection procedures throughout the property, has been put in place. Guidelines to our guest and team members have been formulated which include the installation of sanitation stations at all entrances and throughout the property, the use of Personal Protective Equipment (PPE) and protective screens, enhanced and recorded cleaning and disinfection frequency, social distancing in all areas and more.
Below you will find the Health and Safety Protocols we have put in place at The Hotel as well as the impact on our services & facilities.
Please check this page regularly as regulations are constatly changing an therefore sime hotel services might not be available during your upcoming stay.
We look forward to welcoming you at The Hotel in the near future.

HEALTH AND SAFETY PROTOCOL
After thorough review of all existing health and safety processes, we have developed and put in place a health and safety protocol that must be respected by all guests and team members. All steps of this protocol are important to reduce the spread of infection of COVID-19. We have done our utmost to reduce the number of touchpoints throughout your stay.
Our Team members have been educated about our new standard operating procedures through extensive training. They are aware of new risk analyses for their job and work environment and we have set up continuous follow-up trainings for them with increased focus on the importance of good hygiene. Our in-house prevention officer has been fully trained as hygiene & safety specialist.
If a guest or staff develops symptoms indicative of COVID-19, a detailed plan is put in place to handle this situation and to minimize contact of the ill person with all guests and staff of the hotel.
A. Rooms
We have reinforced our cleaning procedures of rooms with a special attention to any surfaces frequently touched by guests and team members, including regular disinfection of door handles and all other steel/metal and plastic items and surfaces.
Rooms are allocated as much as possible so to leave a room unoccupied for a minimum of 48h. We spread guests among the different floors to avoid contacts in the corridors (for as long the occupation level allows it).
All linen used in our rooms is treated by an external company and washed properly, as always, in hot cycles (70°C or more) in order to disinfect them completely.
Coffee and tea making facilities and a stocked minibar remain available to guest staying in The Hotel.
The TV remotes have been sealed in transparent plastic bags that are changed at every check-out.
The phones in the rooms are still available for guest to use and are disinfected regularly, however we encourage the use of your own mobile devices. Guests will be informed upon arrival of any useful number during their stay. These numbers will now also be reachable through messenger applications such as WhatsApp.
Guests are asked not to hold (private) meetings in their rooms, with other guests or with people not residing in the hotel.
The Hotel is a cash-free hotel and we encourage people to pay through contactless payment methods where possible. At the moment of check-in, full pre-payment of your stay is requested and all consumption is paid on the spot throughout your stay. Express check-out is encouraged. Invoices will be sent per e-mail only.
B. Public Areas
Special consideration is being given to the cleaning of common areas (halls, corridors, lifts, express check-out boxes, etc.) and to objects that are frequently touched (handles, elevator buttons, handrails, switches, door knobs, etc.). High touch surfaces at the front desk such as the payment terminal and desks are disinfected between guests.
Contactless disinfection gel distributors have been put in place at all building entrances and in strategic places throughout the hotel.
At the reception floor markings determine a 'safe-zone', accessible to team members only, and indicate the secure distance that guests need to abide by while waiting in line. Protective shields made out of plexiglass have been installed on the desks to protect both staff and guest from infection.
Packages delivered at The Hotel to the attention of a guest need to be picked up by the guest at the reception. No packages will be brought up to the room by a team member of The Hotel.
We highly discourage meetings in our public areas. Although lobby furniture will be cleaned more thoroughly and more frequently, we request guest to limit their presence in our lobby to the strict minimum.
The elevators should be used in a responsible manner by our guests and staff. As social distancing is not possible, only one person at a time should use the elevators. People from the same household are allowed to use the elevators together.
C. Food & Beverage
As per government regulations, guests wishing to access The Iris, Breakfast and the Panorama Lounge are not required to show their Covid Safe Ticket anymore.
Guests should wait to be seated by a staff member and should remain seated at all times except for using the bathrooms or for leaving the premises.
Cashless payment methods are encouraged, preferably contactless. Payment terminals are disinfected regularly. Payments are carried out at the table and not at the bar.
Tables and chairs are cleaned and disinfected between every client. A menu is available on our website only, no paper menus are available.
In order to protect our guests and our staff members, all team members wear masks while being on duty.
D. Meetings & Events
The government currently allows Meetings & Events to take place with an unlimited amount of participants. The necessarry steps to ensure the saftey of our staff, the meeting organisers and particpants have been taken and we follow the directives of the local authorities.
Some of our meeting rooms can also be rented as temporary office space, with a pre-set and limited capacity to allow social distancing. These temporary rentals are subject to availability, please contact meet@thehotel.be for more information.
IMPACT ON THE OPERATIONS OF OUR SERVICES AND FACILITIES
In compliance with the federal measures and in an effort to reduce the risk of contamination for our guests and team members, operations of some of our services and facilities might be affected during your stay at The Hotel.
A. The Iris
As per government regulations, guests wishing to access the bar, the restaurant, and the breakfast are not required to show their Covid Safe Ticket anymore.
Guests are currently also allowed to order from Delivery Services, such as Deliveroo or Uber Eats, but will need to pick-up their order on the ground floor. Orders will need to be picked up from reception and consumed in your room.
Additionally, a selection of sweet and salty snacks and drinks are available for sale in our Wundermart Shop.
B. The Panorama Lounge
As per government regulations, guests wishing to access the Panorama Lounge are not required to show their Covid Safe Ticket anymore.
The Panorama Lounge will be open from 7:00 am to 8:00 pm with reduced seating capacity. A selection of coffee, tea, water and soft drinks will be available from 7:00 am to 5:00 pm. From 5:00 pm to 8:00 pm, red & white wine and a selection of liquors (whiskey, vodka, gin) will be added on top of the basic assortment and we provide a selection of individual cold and warm canapés/snacks
Access is only authorized to guests paying the Deluxe premium rate or suite rate.
Covid-19 guidelines need to be respected.
C. The Urban Spa & Fitness
The Fitness room and the Urban spa are open between 07:00 am and 10:00 pm everyday. No treatments are being carried out until further notice.
D. Housekeeping
We offer daily cleaning services for guests staying beyond one single night.
E. Valet Parking & Porterage Service
Valet parking and luggage porterage service is currently unavailable at The Hotel. Furthermore, to avoid propagation of the virus, luggage trolleys are only available upon request.
Self-parking in our secured underground parking remains available to hotel guests only.
F. Hotel Access
As per government restrictions, public bathrooms are accessible only to guests holding a reservation at The Hotel.
G. Lost & Found
We have changed our lost & found policy. All items found in rooms or public areas are disposed of with the exception of jewellery, wallets, money, electronic devices and watches.
Lost & Found enquiries can only be address to The Hotel via email through lf@thehotel.be If a lost object has been found, the guest is solely responsible for recuperating the object at The Hotel. The Hotel will not be able to ship Lost & Found objects on the guests' behalf.
H. Administrative Departments
Our staff applies social distancing in their daily work. Our administrative departments remain operational but most of our team members are working from home. They are available from Monday to Friday during office hours and the preferred contact method is by e-mail:
Reservations Department: book@thehotel.be
Meetings & Events Department: meet@thehotel.be
Accounting and Finance: accounting@thehotel.be
Human Resources: hr@thehotel.be
WHAT CAN YOU DO
Wash your hands frequently or use our dispensers with hand sanitizer
Maintain social distancing
Avoid handshakes and hugs at any time
Cough into a paper towel that you throw away. Then wash your hands.
If you do not have a paper towel, cough in your elbow to prevent air droplets from spreading.
Avoid touching your face: eyes, nose and mouth.
Stay at home if you are sick and if you have been or may have been in contact with the virus, contact your doctor. Avoid going to a waiting room to avoid infecting other people.