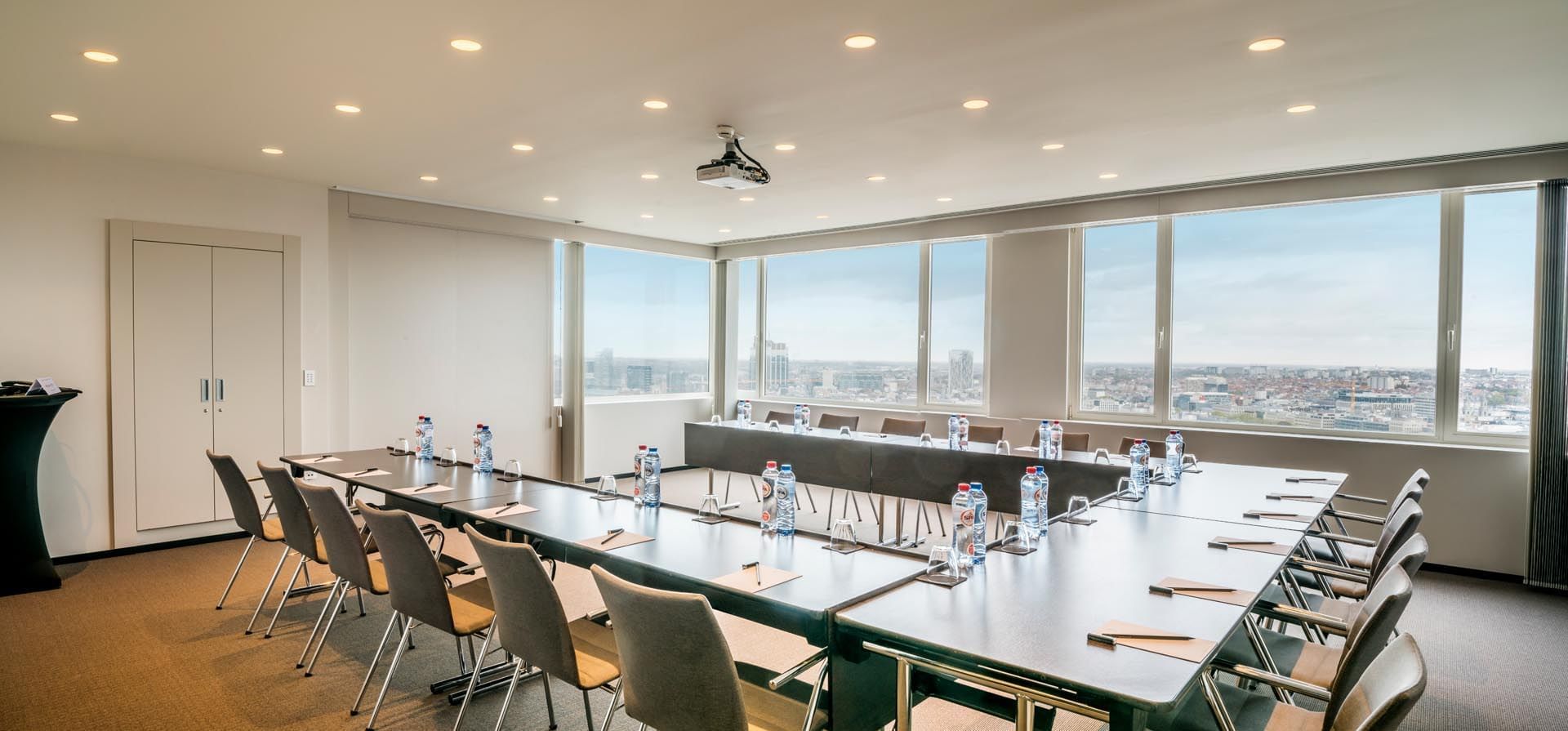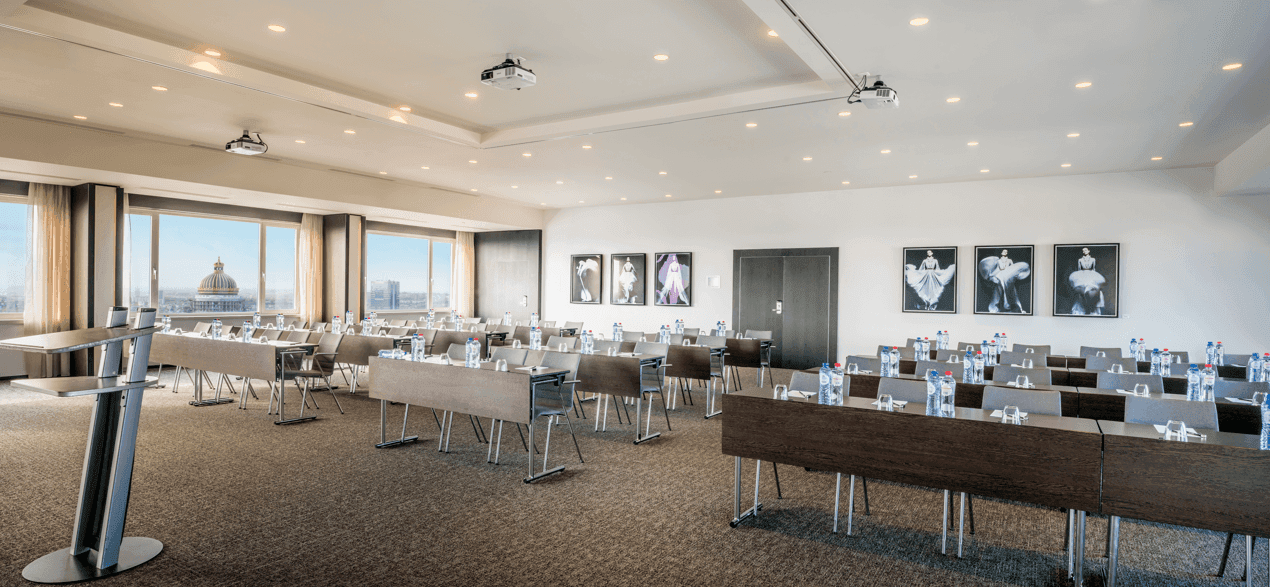 Meetings and events that make their mark
Venues in Brussels that stand above the rest
The Hotel Brussels means business. From sky-high meeting rooms with a view to remember to lavish gatherings for 400+ guests, together with The Hotel, your event will be a headliner.
Make your meeting unique with a range of options and event spaces to choose from, each with panoramic city vistas. Take a break and fuel your attendees with tasty coffee breaks, boost your presentation with a full tech setup, and ensure your event runs smoothly with flawless service.
For longer events, The Hotel is made for business travelers with stand-out facilities, exceptional rooms & suites, and great dining and socializing options, not to mention the Urban Spa & Fitness. Oh, and a location that is as easy to reach as it is impressive.
Meetings
12 Meeting rooms for up to 400 people
Free unlimited high-speed WiFi
Built-in LCD projectors and screens
Electric sunscreens
Private fridge with complimentary refreshments
Coffee breaks/lunch in open-spaced foyer
Inspiring 360° city views
Meetings
12 Meeting rooms for up to 400 people
Free unlimited high-speed WiFi
Built-in LCD projectors and screens
Electric sunscreens
Private fridge with complimentary refreshments
Coffee breaks/lunch in open-spaced foyer
Inspiring 360° city views
Facilities
120 underground parking spaces
24h room service
Dry cleaning and laundry service
Mobile Key via Smart Phone
Privileged access to the Panorama Lounge for Deluxe Panorama and Suite Guests
Access to the Urban Spa & Fitness
Facilities
120 underground parking spaces
24h room service
Dry cleaning and laundry service
Mobile Key via Smart Phone
Privileged access to the Panorama Lounge for Deluxe Panorama and Suite Guests
Access to the Urban Spa & Fitness
Location
Premium location on Boulevard de Waterloo
Walking distance to the Grand Place & Brussels' main attractions
20 minutes from Brussels International Airport
Easily reachable via main train stations
Location
Premium location on Boulevard de Waterloo
Walking distance to the Grand Place & Brussels' main attractions
20 minutes from Brussels International Airport
Easily reachable via main train stations
| | Dimensions (m) | Area | Height | Theater | Classroom | Cabaret | U-Shape | Boardroom | Banquet | Cocktail |
| --- | --- | --- | --- | --- | --- | --- | --- | --- | --- | --- |
| MEET 25 ONE | 7,6x7,0 | 53 m2 / 570 ft2 | 2,58 | 36 | 24 | 24 | 18 | 16 | 40 | 50 |
| MEET 25 TWO | 7,0x7,6 | 53 m2 / 570 ft2 | 2,58 | 36 | 24 | 24 | 18 | 16 | 40 | 50 |
| MEET 25 THREE | 15,9x7,1 | 112 m2 / 1206 ft2 | 2,58 | 62 | 33 | 30 | 18 | 18 | 80 | 80 |
| MEET 26 ONE | 13,3x7,6 | 97 m2 / 1044 ft2 | 2,58 | 72 | 53 | 48 | 36 | 30 | 60 | 70 |
| MEET 26 TWO | 9,1x7,1 | 59 m2 / 635 ft2 | 2,58 | 36 | 24 | 25 | 18 | 20 | 40 | 40 |
| MEET 26 THREE | 13,3X6,9 | 93 m2 / 1001 ft2 | 2,58 | 72 | 54 | 48 | 36 | 30 | 60 | 70 |
| MEET 26 FOUR | 9,1x7,1 | 59 m2 / 635 ft2 | 2,58 | 36 | 24 | 25 | 18 | 20 | 40 | 40 |
| VISTA 27 | 16,1x11,8 | 222 m2 / 2390 ft2 | 2,95 | 160 | 108 | 91 | 48 | 42 | 140 | 180 |
| GRAND BALLROOM | 20x19 | 380 m2 / 4090 ft2 | 3,3 | 400 | 192 | 176 | 63 | 60 | 270 | 400 |
| PARK BALLROOM | 17x10 | 170 m2 / 1380 ft2 | 3,3 | 170 | 96 | 88 | 52 | 40 | 112 | 220 |
| | |
| --- | --- |
| Dimensions (m) | 7,6x7,0 |
| Area | 53 m2 / 570 ft2 |
| Height | 2,58 |
| Theater | 36 |
| Classroom | 24 |
| Cabaret | 24 |
| U-Shape | 18 |
| Boardroom | 16 |
| Banquet | 40 |
| Cocktail | 50 |
| | |
| --- | --- |
| Dimensions (m) | 7,0x7,6 |
| Area | 53 m2 / 570 ft2 |
| Height | 2,58 |
| Theater | 36 |
| Classroom | 24 |
| Cabaret | 24 |
| U-Shape | 18 |
| Boardroom | 16 |
| Banquet | 40 |
| Cocktail | 50 |
| | |
| --- | --- |
| Dimensions (m) | 15,9x7,1 |
| Area | 112 m2 / 1206 ft2 |
| Height | 2,58 |
| Theater | 62 |
| Classroom | 33 |
| Cabaret | 30 |
| U-Shape | 18 |
| Boardroom | 18 |
| Banquet | 80 |
| Cocktail | 80 |
| | |
| --- | --- |
| Dimensions (m) | 13,3x7,6 |
| Area | 97 m2 / 1044 ft2 |
| Height | 2,58 |
| Theater | 72 |
| Classroom | 53 |
| Cabaret | 48 |
| U-Shape | 36 |
| Boardroom | 30 |
| Banquet | 60 |
| Cocktail | 70 |
| | |
| --- | --- |
| Dimensions (m) | 9,1x7,1 |
| Area | 59 m2 / 635 ft2 |
| Height | 2,58 |
| Theater | 36 |
| Classroom | 24 |
| Cabaret | 25 |
| U-Shape | 18 |
| Boardroom | 20 |
| Banquet | 40 |
| Cocktail | 40 |
| | |
| --- | --- |
| Dimensions (m) | 13,3X6,9 |
| Area | 93 m2 / 1001 ft2 |
| Height | 2,58 |
| Theater | 72 |
| Classroom | 54 |
| Cabaret | 48 |
| U-Shape | 36 |
| Boardroom | 30 |
| Banquet | 60 |
| Cocktail | 70 |
| | |
| --- | --- |
| Dimensions (m) | 9,1x7,1 |
| Area | 59 m2 / 635 ft2 |
| Height | 2,58 |
| Theater | 36 |
| Classroom | 24 |
| Cabaret | 25 |
| U-Shape | 18 |
| Boardroom | 20 |
| Banquet | 40 |
| Cocktail | 40 |
| | |
| --- | --- |
| Dimensions (m) | 16,1x11,8 |
| Area | 222 m2 / 2390 ft2 |
| Height | 2,95 |
| Theater | 160 |
| Classroom | 108 |
| Cabaret | 91 |
| U-Shape | 48 |
| Boardroom | 42 |
| Banquet | 140 |
| Cocktail | 180 |
| | |
| --- | --- |
| Dimensions (m) | 20x19 |
| Area | 380 m2 / 4090 ft2 |
| Height | 3,3 |
| Theater | 400 |
| Classroom | 192 |
| Cabaret | 176 |
| U-Shape | 63 |
| Boardroom | 60 |
| Banquet | 270 |
| Cocktail | 400 |
| | |
| --- | --- |
| Dimensions (m) | 17x10 |
| Area | 170 m2 / 1380 ft2 |
| Height | 3,3 |
| Theater | 170 |
| Classroom | 96 |
| Cabaret | 88 |
| U-Shape | 52 |
| Boardroom | 40 |
| Banquet | 112 |
| Cocktail | 220 |